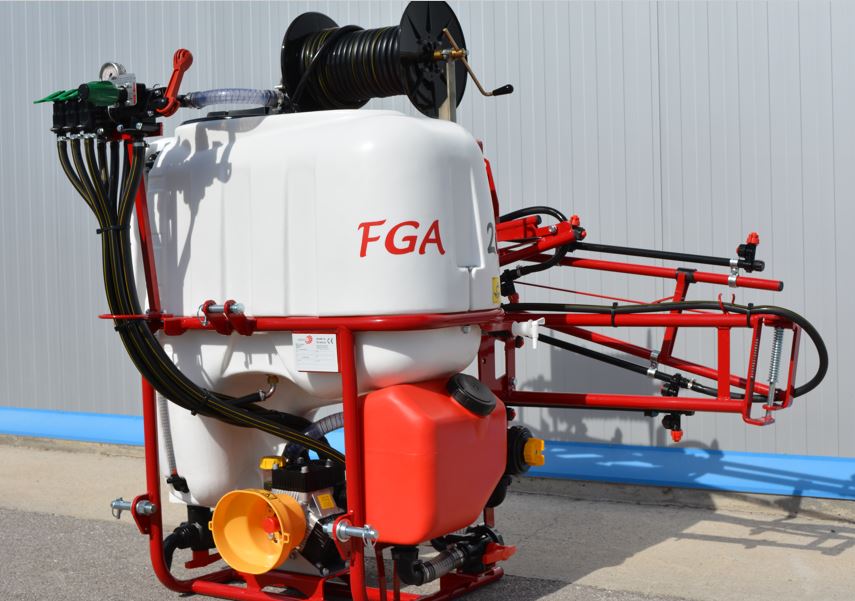 Overview - FGA
This small tractor mounted sprayer is popular with all from Greenkeeper to Gamekeeper. It is compact, simple to operate and meets all the latest legislation. The control layout provides the operator with main on/off, 3 separate boom section on/off, pressure adjustment, turbo agitation and tank flush control. The boom height can be adjusted to paddock or raised a little to treat pheasant cover crops. Optional equipment includes a 25 metre retractable hose reel and spray lance, ideal for precise applications around trees or along paths, electric main on/off, so the tractor cab window remains closed or triplet nozzle bodies for those requiring several different application rates.
Specifications
200 litre polyethylene rota moulded tank c/w remote drain
26 litre clean water rinse tank c/w rota flush tank rinse nozzle
8 metre steel constructed manual "Package Folding" boom
Adjustable boom height
75 litre/min 3 cylinder diaphragm pump
Manual main on/off and 3 spray section control c/w pressure adjustment
Adjustable control mounting
Single quick fit nozzle bodies c/w flat fan nozzles
Quick fit spray line flush end caps
Fill hose holder
600 litre polyethylene tank
60 litre clean water tank with internal tank rinsing system
3-cylinder, 120 litre/min diaphragm piston pump
Manual shut-off and pressure adjust
Protective clothing locker and clean water hand rinsing system
Options
50m hose reel and lance
Triplet nozzle bodies
Overview - FGH Wheelbarrow and trailed sprayers
A wide range of wheelbarrow and trailed sprayers are available aimed specifically at the amenity market. from 100 litres to 500 litres with a wide choice of booms, lances and optional equipment. Please don't hesitate to contact us for further details.